Villains, or bosses, are the main antagonists in the Sly Cooper series.
Please see the respective article for more information about each villain.
Villains
Sly Cooper and the Thievius Raccoonus
Fiendish Five
Sly 2: Band of Thieves
Klaww Gang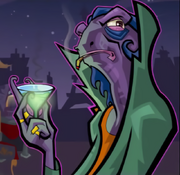 Sly 3: Honor Among Thieves
Sly Cooper: Thieves in Time
Le Paradox's gang
Scrapped villains
Sly Cooper: Thieves in Time
A male elephant holding what appears to be a set of scrolls, books and other such objects. He was meant to be the boss of Ancient Arabia, and was most likely hired to fabricate Le Paradox's documents in that era. He was eventually merged with another boss character to create Ms. Decibel. Aspects of this character remain in the final game, such as elephant statues holding books in their trunks acting as fountains.
A female monitor lizard that appears to be some sort of wealthy aristocrat. It isn't known what role she would've had as of yet, other than that she was supposed to be a boss. Her character was eventually merged with another character to make Ms. Decibel.
A mole with a large drill-like contraption strapped to his back. He was the original boss of Medieval England, as Penelope was not included in the original boss lineup.
A spider character from Paul Sullivan's website containing his goons and castle which never had a chance to be featured on account of lacking black magic in the fourth game.
Cut or altered content information ends here.
Ad blocker interference detected!
Wikia is a free-to-use site that makes money from advertising. We have a modified experience for viewers using ad blockers

Wikia is not accessible if you've made further modifications. Remove the custom ad blocker rule(s) and the page will load as expected.