This talk page is only for discussing improvements to the page "Paraglider."
It is not the place for general discussion or sharing stories about the topic of this article. Please use our forum for these purposes.
Please sign and date your posts by typing four tildes (~~~~) after each of your entries.
Put new text under old text. Click here to start a new topic.
Do not edit other people's entries.
Again, please use our forum for discussion about related topics.
Neyla's paraglider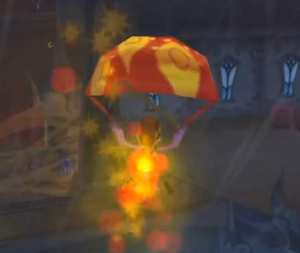 I happen to have a photo of Neyla's Paraglider. Should it go here on a new "Trivia" section or should it go in Neyla's page
—Preceding unsigned comment added by Jm0364 (Wall • contribs) . Please sign your posts with ~~~~!
It should go in the trivia sections of both the Paraglider and Neyla page. Thanks for pointing that out.  

Shrev64

  

Talk

  

Contribs

  

Master Thief

 

 17:36,8/25/2012