Sly Cooper Wiki/Featured Articles
Talk

0
911pages on
this wiki
Archive of the previous featured articles for the Sly Cooper Wiki.
July 2013
Caveman "Bob" Cooper (commonly referred to as Bob) is the first known Cooper in history, coming from Gungathal Valley in 10,000 B.C. as the greatest thief of the Ice Age. His first appearance is in Sly Cooper: Thieves in Time. He speaks a language that is understood by Sly and the gang, but not to the player.
Previous "Featured Articles"
January-June 2013
Bentley Tech is a collection of all of Bentley's gadgets, formally named in Sly Cooper: Thieves in Time. It includes Bentley's RC Car, his laptop, his hacking prowess, and mainly, his slide shows. Its main purpose is to inform Sly Cooper of what needs to be carried out during the penultimate Job of an Episode. This also replaces the Slide Shows that were played in the Safe House in Sly 2 and Sly 3.
Previous "Featured Articles"
August-December 2012
PlayStation All-Stars Battle Royale is a crossover brawler for the PlayStation 3 and PlayStation Vita, under the production of SuperBot Entertainment. The game is rumored to have at least 20 first-party and third-party characters, Sly being one of them. It is set to release on November 20, 2012.
Previous "Featured Articles"
More about PlayStation All-Stars Battle Royale
July 2012
Sir Galleth Cooper is Sly Cooper's ancestor from 13th century England. He is an honorable knight and cunning thief who fought with a lance in the shape of the Cooper crook. Sir Galleth has been confirmed to be a playable character in Sly Cooper: Thieves in Time, in which he is first seen imprisoned in a type of "Mad Circus" by a villain known only as the "Black Tyrant."
May-June 2012
The Cooper Clan is the family of the protagonist of the series, Sly Cooper. They have been master thieves for thousands of years, stealing only from criminals and those undeserving of what they possess, due to underhanded dealings or more sinister arrangements. The Cooper Clan established a vault on Kaine Island, where all of their treasures are now stored.
January-April 2012
"Sly 2: Band of Thieves" is the second game in the Sly Cooper series. Following the story of its predecessor, Sly 2 has Sly and the Gang retrieve the Clockwerk parts to permanently destroy them, only to realize they've been stolen by the mysterious Klaww Gang. Sly, Bentley, and Murray adventure through suspicions and emotional events and get to the bottom of this. Featuring character control of Sly, Bentley, and Murray, Sly 2 introduced gameplay mechanics never seen in its predecessor. It later went on to achieve Greatest Hits.
November-December 2011
"Tennessee Kid" Cooper
is a possible character in the upcoming
Sly Cooper: Thieves in Time
. He was a western ancestor for
Sly Cooper
, and was the inventor of the Rail Slide and Rail Walk moves. His weapons was a C-shaped revolver, whose handle was a hook that resembled the C-shape. Not much information is known about his appearance in
Thieves in Time
. Stay tuned with the Sly Cooper Wiki for the latest updates on
"Sly Cooper: Thieves in Time"
.
September 2011-October 2011
El Jefe is a confirmed villain in the upcoming "Sly Cooper: Thieves in Time". Not much information is known about him, besides the fact that he is a very strong mercenary, claiming that he could take over a country only commanding three blind mice, armed with plastic spoons. Stay tuned with the Sly Cooper Wiki for the latest updates on "Sly Cooper: Thieves in Time".
August 2011
Rioichi Cooper is Sly's ninja ancestor from feudal Japan. He perfected the ninja spire landing, and his weapons were twin hooked Sais. He was one of the most skillful of the Cooper Clan. Back in feudal Japan, he scaled rooftops and entered many palaces without anyone being aware of it.
July 2011
Sly Cooper and the Thievius Raccoonus is the first game of the Sly Cooper series. It was released in 2002 by Sucker Punch. Sly Cooper grew up in a family of master thieves, and when the Thievius Raccoonus is stolen from him, it's up to Sly and his gang to stop the mysterious villains who took away his family and inheritance.
June 2011
Sly Cooper: Thieves in Time is the upcoming fourth game in the Sly Cooper series. It was first under the name "Sly 4" in a teaser trailer released in "The Sly Collection", but its current title was released in an official trailer shown at the E3 2011. Sly and the gang go back in time to find the pages of the "Thievius Raccoonus".
May 2011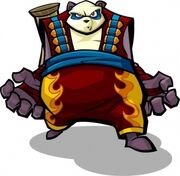 Panda King made his first appearance in Sly Cooper and the Thievius Raccoonus as the explosives expert for the Fiendish Five. He was one who seemed like a calm and humble person, especially from his way of talking. However, he was very powerful, mastering the technique of Flame-Fu. However, Sly Cooper was able to beat him using some agility, ending Panda King's explosive reign on the Kunlun Mountains. However, he reappeared in Sly 3: Honor Among Thieves, seen as a man deep in meditation. When he was awoken by the Cooper Gang, he explained that his daughter, Jing King, had been kidnapped by General Tsao for marriage. The Cooper Gang helped the Panda King get back his daughter, and Panda King joined the Gang shortly after.
April 2011
Dimitri is a character who makes his first appearance in "Sly 2: Band of Thieves", and becomes a major character in Sly 3: Honor Among Thieves. Dimitri was first known for his affiliation with the Klaww Gang. He had possession over the Clockwerk Talons, and abused them to make counterfeit currency. Sly Cooper took out Dimitri and sent him to jail. One year later, in search of Murray, Sly and Bentley stumble upon Dimitri in Venice's prison, and let him out in exchange for Murray's whereabouts. He appears again in Holland, where he gives Sly the ACES flight roster. He once again appears in Blood Bath Bay, where the Cooper Gang helps him find his grandfather's diving gear. Once it was found, Dimitri became a permanent member of the Cooper Gang.
March 2011
The Guru is a character who makes his first appearance in "Episode 2: Rumble Down Under", in "Sly 3: Honor Among Thieves". He is known to be Murray's mentor for his "Quest for Peace and Balance". The Guru has many abilities, such as being able to take control of a Guard's mind and use him, as well as transform into a static object found within the given environment.
February 2011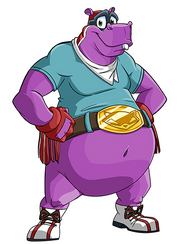 Murray is one of Sly Cooper's childhood friends. Murray is the "Brawn" of the Cooper Gang, and will do anything for his friends. This can be seen in two instances, where Murray takes the blame for Bentley's disability. He appears in the three games thus far.
December 2010-January 2011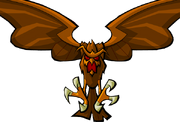 Clockwerk is the main villain in Sly Cooper and the Thievius Raccoonus and Sly 2: Band of Thieves. He has a very strong hatred for the Cooper family line, and would do anything to stop it, such as replacing his body with mechanical parts so he could live forever.
October-November 2010
Sly Cooper is the main character of the Sly Cooper series. Born into a long line of thieves, he was abandoned at the age of eight, where the Fiendish Five attacked and killed his father, while also stealing the Thievius Raccoonus. After this incident, he met his friends Bentley and Murray.
August-September 2010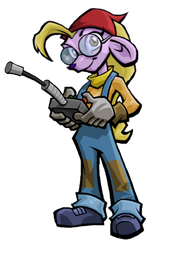 Penelope is a character introduced in Sly 3: Honor Among Thieves as the 5th member of the 'Cooper Gang', voiced by Annette Toutongh. She first appeared disguised as the Black Baron (voiced by Loren Hoskins) and the first boss Sly faced in combat. She later proved to be an invaluable member of the gang providing RC skills which supprassed even Bentley's, and defeating Captain Lefwee in a deadly sword duel.
April 2010-September 2010
Bentley is a character featured in the Sly Cooper series of video games developed by Sucker Punch Productions for the PlayStation 2. Like Murray, Bentley has no surname given to him, supposedly in the Japanese version Bentley actually has a surname, "Wiseturtle". His voice is provided by Matt Olsen. It is often said that Bentley and Olsen share a striking resemblance to each other, aside from the obvious species difference.
March 2008-March 2010
Her outlook on crime is very black and white and she believes that any law breaker must be brought to justice, regardless of how minor or major the infraction may be. Pursuing this vision with her shock pistol, Carmelita is rigid in this view and pursues all criminals with equal determination, from murderers to jaywalkers to thieves like Sly and company. However, she acts justly to her captives, at one point making sure Sly's captured teammate Murray is doing alright in his makeshift cell and even providing a bag of jelly beans for the hungry hippo. Carmelita is devoted to her job, but she is also a very emotional woman who must work constantly to keep her temper in check.