Featured article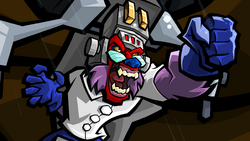 Dr. M was the main antagonist of Sly 3: Honor Among Thieves. He was a former member of the Original Cooper Gang who later turned his back on his teammates, Conner Cooper and Jim McSweeney, and sought to steal the Cooper fortune from the Cooper Vault.
He was voiced by Rick May.
Did you know…
...that Bentley is allergic to tomatoes and lemons?
...that Muggshot is seven feet, three inches tall and weighs three hundred and twenty-four pounds?
How to help
This wiki is a collaborative website built by its users. We hope you too will stick around and help us become the best resource for all things Sly Cooper. Not sure where to start?
News
I'm a bit late on finally creating a news post for this, but here goes (this post originally appear…

Read more >

Hey Hopeful Sly Pals,

Still no real news. But that doesn't mean we can't make some out of likely not…

Read more >
Poll
How do you feel about the TV series?
Ad blocker interference detected!
Wikia is a free-to-use site that makes money from advertising. We have a modified experience for viewers using ad blockers

Wikia is not accessible if you've made further modifications. Remove the custom ad blocker rule(s) and the page will load as expected.