Welcome to the Sly Cooper Wiki


We have created over 1,280 articles since we started on March 11, 2008 and you can help us expand.

All pages | New pages | New files | Administrators | Categories | Help pages | Guidelines | Forum | Chat


Note: This wiki covers information about the Sly Cooper series, and as such contains spoilers.

Featured Article
Arpeggio was the chief machinist of the Klaww Gang and the mastermind behind the events of Sly 2: Band of Thieves. He was a small British parrot who desired to wield the power and immortality of Clockwerk, Sly Cooper's nemesis. To this end, he manipulated the Cooper Gang into stealing the Clockwerk parts from his fellow Klaww Gang members for him, with the help of his protégé and assistant, Neyla.
He was voiced by Sam A. Mowry.
Did you know...
...that Sly's "Thief Mask Imager" is what allows him to see job beacons?
...that Bentley has an I.Q. of at least 140?
...that Muggshot is seven feet, three inches tall and weighs three hundred and twenty-four pounds?
Want to add more pieces of trivia? Suggest some here!
Tasks
General
Tasks related to all games
Tasks related to Sly Cooper: Thieves in Time
Helping Out
Not sure where to start?
To create a new article, just enter the name in the box below.
Latest News
Hey Hopeful Sly Pals,

Still no real news. But that doesn't mean we can't make some out of likely n…

Read more >

Hello Gang,

According to several sources around the internet, Rainmaker has officially moved on to…

Read more >
Poll
When do you plan on watching the Sly Cooper movie?
Previous Polls
Wiki Projects
Currently, we are working on creating and filling all of our walkthrough pages. Check here to see what we still need and to get more information.
---
Affiliates of the Sly Cooper Wiki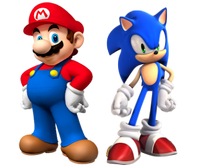 Platformer Games
Go to these sites for info or for help with your own wiki!
Azure Striker Gunvolt • Banjo-Kazooie • Broforce • Cave Story • Code: Hardcore • Conker • Contra • Crash Bandicoot • Donkey Kong • Drawn to Life • Freedom Planet • Geometry Dash • Jak and Daxter • Kirby • LittleBigPlanet • Mario • Mega Man • Metal Slug • Metroid • Mirror's Edge • Oddworld • Ratchet & Clank • Rayman • Shantae (and WayForward games) • Shovel Knight • Sly Cooper • Sonic • Spyro the Dragon • Strider • Tearaway
Want your community included? See how!

Ad blocker interference detected!
Wikia is a free-to-use site that makes money from advertising. We have a modified experience for viewers using ad blockers

Wikia is not accessible if you've made further modifications. Remove the custom ad blocker rule(s) and the page will load as expected.