You break into my place, trash the joint. I feel transgressed and violated. Let's rock!

This article is protected because of future content, and is limited to administrators. If you think that this is not necessary, please discuss it on the article's

talk page

, or with one of the administrators.
Template:GameBox
Sly Cooper: Thieves in Time, commonly referred to as Sly 4, is an upcoming installment of the Sly Cooper series available in Fall 2012 on the Playstation 3 and Playstation Vita. A teaser trailer was revealed in The Sly Collection after completing all three games, and an official trailer was announced and shown at E3 2011. The game was officially announced on June 6th at the Sony Press Conference at E3 2011 and was accompanied by a pre-rendered, non gameplay teaser trailer.
Unlike the previous Sly games, this game is being developed by Sanzaru Games rather than by Sucker Punch Productions. All of the three main voice actors will reprise their roles for the game (Sly, Bentley and Murray). It has also been confirmed that the music composer of the second and third games, Peter McConnell, will reprise his role as the composer for Sly Cooper: Thieves in Time. [1] Thieves in Time will also feature cross-play between the PS3 and the Vita; meaning that one can save their game on the PS3 and continue it on the Vita, and vice-versa.[2]
Sly Cooper: Thieves in Time will be one of the games available in Sony's new "Cross-Buy" feature, where if one buys the PlayStation 3 version, the PlayStation Vita will be available at no extra cost. A playable demo of the game will be included with the American release of The Ratchet & Clank Collection, which will later be made available on the PlayStation Store.[3]
Plot
Set after the events of Sly 3: Honor Among Thieves, Thieves in Time catches up with Sly after the Thievius Raccoonus, starts to fade, it is clear that someone is interfering with time, so Bentley gets the gang back together and they set off on an adventure to make sure the pages are written properly.
Gameplay
Clue Bottles have been confirmed to make their re-appearance in the fourth addition as well as Coins. There are costumes that are similar to the Disguises from Sly 3, but alter how a character reacts to attacks, platforming challenges, and stealth missions. In game these will help Sly reach secret areas, collect items within each hub world, and fight bosses.[4]
Secret Sly Masks are a brand new collectible. It is a Cooper insignia spinning and jumping (similar to Lives from Sly Cooper and the Thievius Raccoonus). There are fifty total masks to be found in the entire game, but their reward is not known.[4]
The Safe House has some new features as well which include:
A treasure wall – A wall showing off any treasure the player attains from certain challenges. Unlocking certain numbers of treasures will give access to new features and bonus content.[4]
A costume gallery – A gallery shows off any costumes the player has collected, and also has the option of wearing the costume.
If you play as a new character, then they will appear in the Safehouse, whereas in previous games, you could only play with new characters and their missions.
As of June 18th, 2012, no gameplay shown has a "Safehouse" icon in the game world for the player to see where the Safe House is. This is most likely do to the fact that all gameplay shown are missions, rather than free roaming.
Free-Roaming
In respect to the free-roaming aspect, like its predecessors Sly 2: Band of Thieves and Sly 3: Honor Among Thieves, Sly Cooper: Thieves in Time boasts incredible free-roaming environments. Due to the large environments in this game, a compass has been added that follows the character right by their feet. Shown in the "It's Time to Be Sly" trailer, Bentley is shown to have two compasses, the reasoning not yet explained. Press the L3 button (back touch screen on the PlayStation Vita) to make it appear for a while (as with the guide rod seen in Sly 2 and 3). When activated, it will be around the main character, pointing the player to the next mission, objective, or area of interest. It also works with the 3D environments, as it is able to point out whether the next objective is below you or above you. Mat Kraemer, in an interview with the Second Funniest Podcast, has confirmed that the compass can be turned on and off.
Environments
Environments are "twice as big" as the previous installments, mainly due to them having many layers. In the previous games, it was limited to the rooftop, or the ground. However, in this game, environments are supposedly more than that, having more tiers and levels to explore within the environment.
Costumes
There is one unique costume per episode that grants Sly new abilities. The costumes that have been announced to date are:
Samurai Costume – This Costume has a shield that is ideal for deflecting fireballs.
Archery Costume – This allows Sly to fire arrows (whenever a bucket of arrows is next to him) that will allow him to create a rope line for him to walk across.
Gypsy Costume – Also known as the Thief Costume, this gives Sly the ability to slow down time.
Jobs
Jobs in previous games varied in length from short to long, but, if the missions in Thieves in Time are all similar in length to Breakout, then they are considerably longer than the longest missions in the earlier games.
Worlds
Features
Epic boss battles, high action, and new stealthy moves provide the deepest and most thrilling Sly experience to date!
Humorous time travel storyline and engaging puzzles
A variety of playable characters await; each with their own unique play style and ability to free-roam in the massive, dense, and lush hub worlds.
Fully playable in eye-popping Stereoscopic 3D.
Confirmed Characters
Sly and the Gang
Sly Cooper
The main character of the series. In this game he has both a red backpack and a brown legpack. He's older, tougher, and more mature. He also has small cosmetic changes and additions, such as a goatee. These may be because the PS2 couldn't render such details, whereas on the PS3, they are more visible.
Bentley
Bentley returns as a playable character. He is the creator of the Time Machine. It has been confirmed that he is both in his attire from Sly 2: Band of Thieves and still in a wheelchair.
Murray
Murray returns as a playable character. He has been in the pro-racing circuit, stock van class, racing the
Cooper Van
. Mat Kraemer has confirmed that there will be racing mini-games, of which Murray will be starring. Changes in his design are as follows; he has a bright yellow racing stripe on the back of his mask, and he has been "buffed up" to help players get a sense of his enormous strength. He will also be more mature than in previous games.
Dimitri
Not much has been shown of Dimitri except for the announcement trailer and the darkened concept art. It seems as if Dimitri has a silver cane of his own.
Carmelita Fox
Carmelita is confirmed to return in the game; first by her reveal of character art, and then by a gameplay video of her. Her mechanics have been improved, as her pistol can now "lock on" to a specific target.
Villains
El Jefe
A smoking, ruthless, tiger dictator that acts as a boss in the game. He thinks highly of himself, as shown by the 1000 foot statue that he built of himself. He has fire and lightning powers.
The Black Knight
A villain from Medieval England, He imprisoned Sir Galleth Cooper in a circus. The latter referred to him as the "Black Tyrant" as an insult.
Clockwerk
It is unknown what role Clockwerk plays in Thieves in Time, but a mention of his existence was shown on the Dragon Claw Statue; scratched into the bottom were the words "Clockwerk Was Here". Glen Egan stated in an interview that he wouldn't be surprised if Clockwerk had something to do with the plot.
The Collector
Two pieces of artwork that were released show a reptilian/amphibian character known as the "Collector". The Comic Con trailer showed him taking the "world" from El Jefe, suggesting that he is El Jefe's employer. It is also refered that he might be the main villian in Thieves in Time.
Ms. Decibel
An elephant whose appearance in the game was confirmed by an image. It is unknown what her role is in the game.
Grizzle B
As with Ms Decibel, a piece of generated artwork confirms him. It is unknown what his role is in the game.
Ancestors
Rioichi Cooper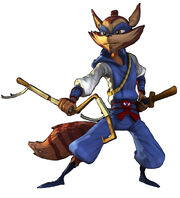 In the PAX 2011 gameplay, the DEBUG menu said "Free Rioichi." This confirmed his existence in the game. Sanzaru revealed him in screenshots of gameplay, further confirming his appearance.
Rioichi's stealth attack is noticably different from Sly's. He hits the guard with his cane, and then pounces on the downed enemy, killing them. It was confirmed in the Gamesradar "Rioichi's Sushi Shop" gameplay preview that the button combination to do this is the SQUARE button, then TRIANGLE button. Players noted that it was particularly difficult to pull of this move. This is only opinion and currently can't be confirmed.
Sir Galleth Cooper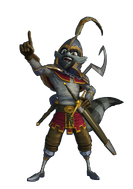 Seen on a picture and mentioned at the official Sanzaru site and The Sly 4 Fanpage on Facebook. He was also shown in some gameplay on On The Spot, where Sly tries to rescue him.
Once he breaks out, he gets his proper knight armor back, in the latest PS Blog video, towards the end, a picture can be seen on the wall in the background, it seems like artwork (similar style to the Rioichi artwork) of Sir Galleth in Knight Armor.
As shown at E3 2012, Sir Galleth Cooper has many "charge" attacks including a slow motion pound similar to Sly's ground pound but does as much damage as Murray's "thunder-flop."
Also shown at E3 2012, Sir Galleth Cooper, if he jumped from a high ledge or building, will do a "slow-motion" fall as right he hits the ground. It is unconfirmed at the moment whether or not this applies to all characters, or just a special ability for Galleth. This seems more like an added effect to the gameplay, not so much as specific to the character.
Salim al Kupar
Salim was confirmed to be a playable character from a gamescom 2012 trailer.[6]
Treasure Design Competition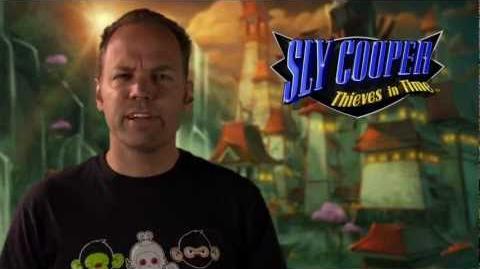 There was a competition that ran from April 20th - May 20th. In the competition, you had to design a treasure that you think Sly would collect in Thieves in Time. From there, Sanzaru selected ten treasures to appear in the game (two from the United States and eight from other places around the world).
There were 24 worldwide winners and 7 American winners (but only the ten selected were to be for in-game use).
The 24 entrant countries were: Australia, Austria, Belgium, Czech Republic, Denmark, Finland, France, Germany, Greece, Ireland, Luxembourg, Netherlands, New Zealand, Norway, Poland, Portugal, Russia, Saudi Arabia, South Africa, Spain, Sweden, Switzerland, UAE and United Kingdom.
American prizes
Two first place prize winners each received a 3G PlayStation Vita Handheld Entertainment System, a 32 GB Memory Card, $100.00 PlayStation Store voucher, and PlayStation 3 Computer Entertainment System sporting a Sly Cooper design.
Five runner ups received a 3G PlayStation Vita System, 16 GB Memory Card, and $40.00 PlayStation Store voucher.
Worldwide prizes
Each of the 24 local winners won a PlayStation Vita system, Wi-Fi only, plus a PlayStation Vita Memory Card 16GB Model. In addition to this, each of the eight final winners got the chance to see their drawings transformed into in-game treasures.
The local winnning entries can be viewed here.
References