| | |
| --- | --- |
| | I have no idea what you're saying. And your suit sucks! |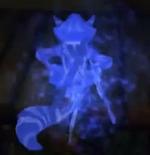 The Leaping Dragon Technique is a move that was created and mastered by Rioichi Cooper. It is featured in the game Sly Cooper: Thieves in Time. This is a technique that Rioichi did not include in the Thievius Raccoonus, and had no challenges relating to it in the Cooper Vault.
The Leaping Dragon Technique allows Rioichi to leap from a narrow point to any other interactive object that has an aura surrounding it.
How To Use
To execute the Leaping Dragon Technique, you must first be on a narrow point. Press and hold 
, aim at a narrow point, rope, or hook with
or

and press 

.
Video
Ad blocker interference detected!
Wikia is a free-to-use site that makes money from advertising. We have a modified experience for viewers using ad blockers

Wikia is not accessible if you've made further modifications. Remove the custom ad blocker rule(s) and the page will load as expected.