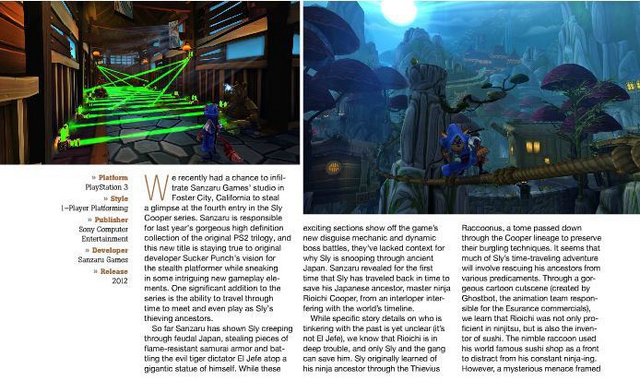 Description
An article from Game Informer about Sly Cooper: Thieves in Time. See page two and page three.
This page reads:
"We recently had a chance to infiltrate Sanzaru Games' studio in Foster City, California to steal a glimpse at the fourth entry in the Sly Cooper series. Sanzaru is responsible for last year's gorgeous high definition collection of the original PS2 trilogy, and this new title is staying true to original developer Sucker Punch's vision for the stealth platformer while sneaking in some intriguing new gameplay elements. One significant addition to the series is the ability to travel through time to meet and even play as Sly's thieving ancestors.
So far Sanzaru has shown Sly creeping through feudal Japan, stealing pieces of flame-resistant samurai armor and battling the evil tiger dictator El Jefe atop a gigantic statue of himself. While these exciting sections show off the game's new disguise mechanic and dynamic boss battles, they've lacked context for why Sly is snooping through ancient Japan. Sanzaru revealed for the first time that Sly has traveled back in time to save his Japanese ancestor, master ninja Rioichi Cooper, from an interloper interfering with the world's timeline.
While specific story details on who is tinkering with the past is yet unclear (it's not El Jefe), we know that Rioichi is in deep trouble, and only Sly and the gang can save him. Sly originally learned of his ninja ancestor through the Thievius Raccoonus, a tome passed down through the Cooper lineage to preserve their burgling techniques. It seems that much of Sly's time-traveling adventure will involve rescuing his ancestors from various predicaments. Through a gorgeous cartoon cutscene (created by Ghostbot, the animation team responsible for the Esurance commercials), we learn that Rioichi was not only proficient in ninjitsu, but is also the inventor of sushi. The nimble raccoon used his world famous sushi shop as a front to distract from his constant ninja-ing. However, a mysterious menace framed"
Continued on page two.
Appears on these pages

of
Gallery of images and videos relating to Sly Cooper: Thieves in Time.

I'm going to need evidence that this is a level if I'm going to be convinced that the...
File history
Click on a date/time to view the file as it appeared at that time.
Ad blocker interference detected!
Wikia is a free-to-use site that makes money from advertising. We have a modified experience for viewers using ad blockers

Wikia is not accessible if you've made further modifications. Remove the custom ad blocker rule(s) and the page will load as expected.