Feudal Japan
Talk

0
823pages on
this wiki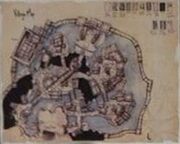 Feudal Japan
is the location of the
first episode
in
Sly Cooper: Thieves in Time
and is the home of
Sly
's ancestor
Rioichi Cooper
. The level is based on a Japanese village from
1603 AD
and some landmarks include a Geisha House,
Rioichi's Sushi House
and
El Jefe
's Fortress, all of which are involved in the missions Sly and the gang need to complete in order to drive out El Jefe, the final boss of the episode. In this episode, the
Samurai Costume
is received and used to
break Rioichi out
of the
Imperial Prison
and to
defeat El Jefe
, among other jobs. There are eight different levels in the episode.
 On the right is a picture of the hideout's location in the Feudal Japan hub.
This environment has at least 3 types of Guards.
Pickpocket Treasures
Edit
These treasures were pickpocketed from boar guards in Sushi House Startup.
Green Gem (100 coins)
Kabuki Mask (100 coins)
Ivory Chopsticks (500 coins)
Mahjong Tile (200 coins)
Treasures
Edit
These treasures are found in secret places and need to be brought back to the Safe House in order to be displayed on the Treasure Wall. The less time you take to get the treasure back, the more coins you get as a reward.
Classic Gaming Gear
Golden Teapot
Dragon Claw Statue (236 coins)
The Ninja Cookbook (120 coins)
Meditation Turtle (199 coins)
Gyro Slicer 2000
Jade Samurai Helmet
Lucky Neko
Jade Peach
Environment
Edit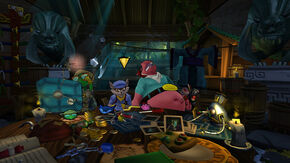 There are many different objects within this environment, including:
El Jefe's Fortress
The Temple
Armory
Bridges
A waterfall
Dragons Gate
A watermill
Toxic waste cans (explosive)
Rails
Bamboo shoots
Sushi restaurant
Geisha House
Fishing Caves
Vines
Wide drums (serve as trampolines)
Hollow barrels (most likely to hide in like in the first and second Sly Cooper games.)
Bonsai trees
Walls
Poles with lanterns hanging at top
Chickens
Imperial Prison
Buckets of arrows (for Sly's Archery Costume)
Targets (for Sly's Archery Costumes)
Dragon doors (for Sly's Samurai Costume)
Clue bottle safe (2:00:40-2:00:43 in IGN 2hr preview the one that is 2:36:00 long)
Clockwerk (on top of the Imperial Prison, and other places).
Pigs
Lizards
Rats
Clue Bottles
Secret Sly Masks
Safehouse
References
Edit