Dead Men Tell No Tales is the fifth episode of Sly 3: Honor Among Thieves. The main antagonist is Captain LeFwee.
Synopsis
The Setup
The gang and Dimitri head to Blood Bath Bay to retrieve Remy Lousteau's diving gear.
Jobs
| | |
| --- | --- |
| | I have no idea what you're saying. And your suit sucks! |
Sly Cooper
Whatever happened to the pirate who stole Remy's diving gear? Find him and talk to him.
Head out to sea and retrieve the diving gear.
Get rid of the Red Sail Sea Dogs.
Bentley
Help Penelope with finding the treasure map.
Murray
Keep the harbor patrol from coming to them.
Dimitri
Get amplifiers for the ship's cannons.
The Panda King
Convince Crusher to aid in stopping LeFwee.
The Operation
Rescue Penelope and stop LeFwee.
The Getaway
LeFwee was defeated, eaten by sharks, and outsmarted by the gang resident genius, Bentley, who not only rescued a teammate, but also won himself a girlfriend. The two were made for each other. Dimitri was also in love as he let his new diving gear go to his head. The gang was "informed" that he'd be their frogman for the Cooper Vault job, despite nobody asking him.
For the first time in memory, Carmelita did not show up in an attempt to arrest everyone. The gang decided to send her a postcard so that she wouldn't feel left out.
Master Thief Challenges
Cutscenes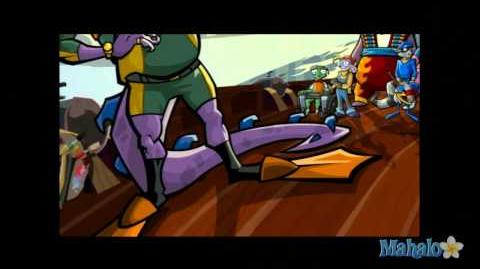 Trivia
Ad blocker interference detected!
Wikia is a free-to-use site that makes money from advertising. We have a modified experience for viewers using ad blockers

Wikia is not accessible if you've made further modifications. Remove the custom ad blocker rule(s) and the page will load as expected.