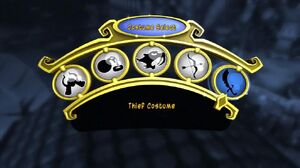 Costumes are alternate clothing for Sly Cooper in Sly Cooper: Thieves in Time. Despite being similar to the disguises from Sly 3: Honor Among Thieves, only the Samurai Costume and Sabertooth Costume can be used as a disguise; none of the other costumes can fool the guards of the episode. Rather, their main function are their unique abilities, such as the Samurai Costume which can protect Sly from fire. Newly obtained costumes can help the player reach new locations in levels previously visited. 
List of costumes
Gallery
Ad blocker interference detected!
Wikia is a free-to-use site that makes money from advertising. We have a modified experience for viewers using ad blockers

Wikia is not accessible if you've made further modifications. Remove the custom ad blocker rule(s) and the page will load as expected.