I thought I'd finished it.

This page needs to be

expanded

in order to include more relevant information.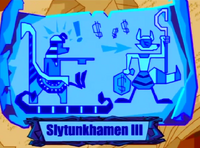 This is a list of minor members of the Cooper Clan. The order in which they appear is speculative and is not necessarily chronologically accurate.
For a list of prominent members, see Cooper Clan.
Members
Slytunkhamen Cooper III
Appears in the opening cutscene of Sly Cooper and the Thievius Raccoonus shown stealing from corrupt Pharaohs, much like his father and grandfather. His cane is very similar to Sly's Cane.
Drake Cooper
He created the Knockout Dive. The main use of this is spinning the cane while lunging forward. This move is also available as an unlockable power-up in Sly 2: Band of Thieves, and as a purchasable power-up in Sly 3: Honor Among Thieves.
Sally Cooper
"Old" Sally Cooper was a female member of the Cooper Clan. She created a locomotion move, the Roll, which is only available for Sly in Sly 1. Later it was upgraded by Kelle McCooper so that it could project an electric field around the user.
Dev Cooperinda
The creator of the Slow Motion Jumps. This move is dubbed "Slow" in Sly Cooper and the Thievius Raccoonus, and "Thief Reflexes" in Sly 2 and Sly 3.
Chris Cooper
Born Christopher Cooper, he invented the coin-collecting dive technique by modifying the Knockout Dive. The move comes standard in all three sequels, however it no longer collects coins as it makes its impact, rather relying on its brute force to daze or stun enemies.
Karin Coopergiwa
She invented the Coin Magnetism technique. Her magnet had been stolen from Rioichi by El Jefe and placed in a safe. This means Karin was around prior to Rioichi. The name "Karin Coopergiwa" is a reference to the name of Karin Yamagiwa, who was one of the level designers for the Sly Cooper series.
Rob McCooper
One of the various members within the Cooper family lineage and is directly responsible for the creation of the Mine technique. Not much is known about Rob McCooper, though it is implied that he had developed a strong love for stealing hats, which eventually lead to him perfecting the Mine technique. He is named for Rob McDaniel, who can be seen in the credits for Sly Cooper and the Thievius Raccoonus.
B.F. Cooper
A male member of the Cooper Clan. The inventor of the Fast Time technique and Sly's hyperactive ancestor, he developed a technique that not only allowed security to go faster but himself in addition. He could be described as the opposite persona of Dev Cooperinda. Bentley said that he might have used it to speed up long stakeouts.
Suzanne Cooper
Suzanne Cooper was a female member of the Cooper Clan. She had a strong aversion to water, and to counter this designed and documented a move that allowed her to jump out of it without losing a lucky charm. Sly used the move to his own advantage during his battles against the Fiendish Five.
Andrew Cooper
Known as Sir Andrew Cooper, he created the thief replica, or "Decoy" technique. This allowed one to distract guards, giving you the chance to slip past them. This trick is only used in in Sly Cooper and the Thievius Raccoonus.
Kelle McCooper
Kelle McCooper was a male member of the Cooper Gang who discovered how to harness the electromagnetic field created by rolling, and augmented Sally Cooper's rolling technique with an electrical aura.
Bruce O'Coop
An ancestor of Sly's who was an expert hacker. Bruce O'Coop was a male member of the Cooper Clan, and was known as the smartest of all Coopers.
Matthew de la Coopeur
He was French and the slowest Cooper, creating the perpetual slow motion technique. This is available in all of the Sly games, but renamed "Thief Reflexes" in Sly 2 and Sly 3, and Bentley wonders if he was influenced by the Thief Costumes ability to slow time.
Huckleberry Cooper
Taking after the famous fictional Huckleberry Finn, he was the inventor of the ability to move, albeit slowly, while invisible. The technique itself is available in all of the Sly Cooper games.
Reid Cooper
Known as Colonel Reid Cooper, he was the inventor of the time stop move (the final ability in Sly Cooper and the Thievius Raccoonus). The freeze move is in the first game and works on all guards including bosses.
Augestine of Cooper
Sir Augestine of Cooper was the inventor of the ability to briefly defy gravity. It is an incredible power that will let Sly fall in bottomless pits without losing a horseshoe. It is even said that Augestine could levitate for days on end and not even break a sweat; while at it he could rob anyone he chose blind, and they wouldn't even know where he went because of the lack of tracks. This move also proves helpful when accidentally falling off of large edges and cliffs.
Ad blocker interference detected!
Wikia is a free-to-use site that makes money from advertising. We have a modified experience for viewers using ad blockers

Wikia is not accessible if you've made further modifications. Remove the custom ad blocker rule(s) and the page will load as expected.