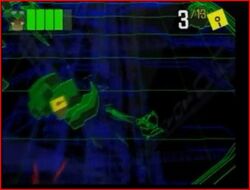 Avatar I is the Avatar that Bentley only uses in the job Bentley Comes Through in Sly Cooper and the Thievius Raccoonus. It was upgraded into Avatar II.
The avatar controls like a twin-stick shooter.

moves the avatar around, and

aims and shoots its cannon.
This avatar was introduced in Sly Cooper and the Thievius Raccoonus and wasn't retired until sometime before Sly 2: Band of Thieves. It's features are:
Moving within computers
Shooting, used to defend against anti-virus software
Picking up, and using, different keys
If the player has a Lucky Charm when entering the mission, then Avatar I will have a Lucky Charm on its back.
Ad blocker interference detected!
Wikia is a free-to-use site that makes money from advertising. We have a modified experience for viewers using ad blockers

Wikia is not accessible if you've made further modifications. Remove the custom ad blocker rule(s) and the page will load as expected.