Welcome to the Sly Cooper Wiki


We have created over 1,180 articles since we started on March 11, 2008 and you can help us expand.

All pages | New pages | New files | Staff | Categories | Help pages | Wiki Policies | Forum | Chat


Note: This wiki covers information about the Sly Cooper series, and as such contains spoilers.

Featured Article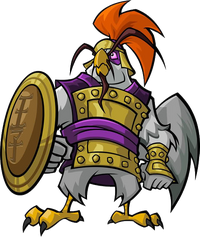 General Tsao is a rooster and self-appointed leader of a village in the Kunlun Mountains in China. He was the main antagonist of Episode 4: A Cold Alliance of Sly 3: Honor Among Thieves. He is obsessed with his family line, believing that it is superior to any others. He wishes to force the Panda King's daughter, Jing King, to marry him in order to create an even stronger lineage. In combat, Tsao uses both his skill with his bladed shield and his mastery over dark magic to defeat his foes.
He was voiced by Leo Chin.
Did you know...
...that Sly's "Thief Mask Imager" is what allows him to see job beacons?
...that Bentley is the first character to talk in each of the first three games?
...that Murray doesn't wear pants because he can't find any in his size?
Want to add more pieces of trivia? Suggest some here!
Tasks
General
Tasks related to all games.
Tasks related to Sly Cooper: Thieves in Time.
Helping Out
Not sure where to start?
To create a new article, just enter the name in the box below.
Latest News
I come to you today with (possibly) solemn news. This won't be a large post.

It looks like the movi…

Read more >

Hey, you thiefy-thieves you,

It's official. Really official. And in fact, it has been official for…

Read more >
Poll
When do you plan on watching the Sly Cooper movie?
Previous Polls
Wiki Projects
Currently, we are working on creating and filling all of our walkthrough pages. Check here to see what we still need and to get more information.
---
Affiliates of the Sly Cooper Wiki